Review of the Huawei Ascend II for Cricket Wireless new ANDROID Smartphone!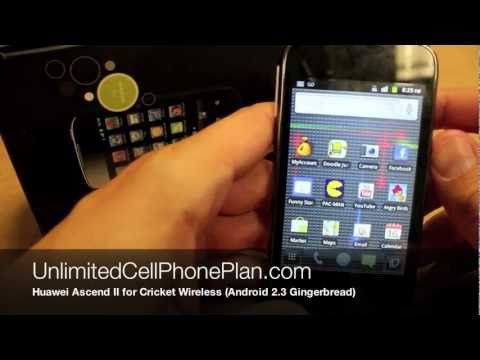 This is the new ultra affordable Android 2.3 Gingerbread Smartphone for Cricket Wireless, if you don't need FLASH or a Physical Keyboard this is an awesome handset….  Pick one up from Cricket Wireless today!
Discount Samsung Indulge from Cricket: Get A Cricket Phone Now
The Huawei Ascend II is the second Cricket smartphone from Huawei. This value-priced Android comes with a 3.5" HVGA touch-screen w/virtual keyboard, Wi-Fi capability, and 3G Real Web Browsing. The Ascend II has lots of great smartphone features packed into an affordable package. Cricket's fifth Android smartphone also includes great features like a 5MP camera/camcorder, MP3 player/microSD slot, and more! The Ascend II is a fully featured Android smartphone featuring the Android 2.3 Gingerbread OS. This smartphone also gives customers access to over 200000 cool apps on the Android market as well as great Google apps like YouTube, Gmail, Google Maps, Google Search and more.
Posted by UnlimitedCellPhonePlanMan on July 19, 2011
http://www.unlimitedcellphoneplan.com/cricket-wireless/huawei-ascend-ii-for-cricket-wireless/